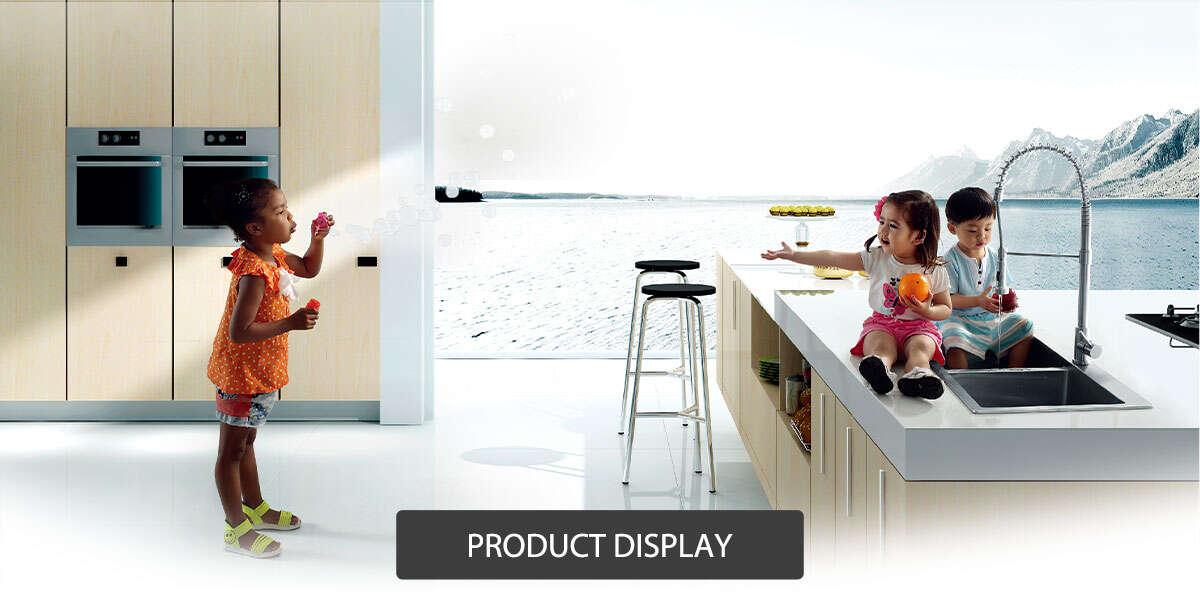 As the leading supplier of wholesale home reverse osmosis filter faucets, we offer a range of high-quality products that are designed to provide clean and healthy drinking water. Our filter faucets are specifically designed to remove impurities and contaminants from tap water, ensuring that you and your family have access to safe and great-tasting drinking water. With our commitment to quality and customer satisfaction, you can trust us to provide the best wholesale home reverse osmosis filter faucets on the market.
Product Introduction - Bathroom Sink Faucet Manufacturer
Introducing our high-quality and stylish filter faucet, the perfect addition to any modern kitchen. Our filter faucet is made of durable and rust-resistant 304 stainless steel, ensuring long-lasting use and peace of mind for you and your family.
Featuring a sleek European design with beautiful curves and a brushed nickel finish, our filter faucet will complement any kitchen decor. It is available in two designs: matte black finish and brushed finish.
Our filter faucet also boasts a drip-free design, with ceramic valves ensuring no leaks or drips. The handle can be adjusted up to 90°, while the main body can rotate 360°, providing easy access and precise control over water flow.
Most importantly, our filter faucet is lead-free, making it a safe and healthy choice for your family. With front gasket pre-installed and mounting hardware included, installation is quick and easy.
Choose our filter faucet for clean and refreshing water every time you turn on the tap.
Description of reverse osmosis faucet filter
Healthy material: high quality lead-free drinking water faucet, two designs: matte black finish and brushed finish, made of 304 stainless steel, so the sink drain faucet is sturdy and durable, anti-rust, anti-corrosion, lead-free, healthy family s Choice.
Drip-Free Design: The body of this water filter faucet is smooth and free of dirt. Ceramic valves are used to ensure no leakage. The handle can be adjusted 90°, and the main body can be rotated 360°. With Wellup's European design, this RO faucet handle and body match perfectly, perfect for kitchen sink bars.
European Faucet with Sleek Curves and a Sleek Look: Stylish brushed nickel finish complements any modern kitchen.
Easy, Leak-free Installation: Front gasket pre-installed under metal plate; Mounting hardware included. Drink clean and refreshing water every time you turn on the tap.
High-Quality Filter Faucet for Safe Drinking Water: When it comes to choosing a faucet for your drinking water, quality and safety should be your top priorities. Our filter faucet is made of high-quality 304 stainless steel that is sturdy, durable, rust-resistant, and corrosion-resistant. It is also lead-free, making it a safe choice for your family.
Drip-Free Design with Smooth Body and Ceramic Valves: Our filter faucet is designed for easy use and maintenance. The ceramic valves ensure that there are no leaks or drips, and the smooth body of the faucet prevents dirt buildup. The handle can be adjusted up to 90°, and the main body can rotate 360°, allowing you to easily fill glasses, pitchers, and pots.
European Style Faucet with Sleek Curves and Brushed Nickel Finish: Our filter faucet features a stylish European design with sleek curves and a brushed nickel finish that complements any modern kitchen. This faucet is perfect for kitchens, bars, and any other area where clean drinking water is essential.
Easy Installation with Front Gasket Pre-Installed and Mounting Hardware Included: We understand that installing a new faucet can be daunting, which is why we made sure our filter faucet is as easy to install as possible. The front gasket is pre-installed under the metal plate, and all the necessary mounting hardware is included. With our filter faucet, you can enjoy clean and refreshing water every time you turn on the tap.
Home ro filter faucet is a kind of faucet that can filter the water you drink to make it clean and healthy. Advanced nanotechnology can remove 99% of bacteria in water. Filter faucets can be used not only for drinking water, but also for cooking and cleaning. This stylish and durable filter faucet is suitable for any standard kitchen sink. The filtration process can remove 99% of the sediment, lead, cysts and some disease carrying bacteria in the water. This faucet has a convenient switch, which allows you to adjust the filtered water volume according to your specific needs.
2) Suitable for most kitchens and bathrooms
Water can be filtered easily and quickly without changing the filter. This faucet can be quickly connected to your existing pipe, so that you can easily filter water without changing the filter.
3) Working principle-reverse osmosis faucet filter
Reverse osmosis faucet filter provide a quick and friendly way to filter your water. The filter uses activated carbon blocks, which are famous for their ability to remove chlorine, organic compounds and synthetic chemicals. You can use it to drink water from the tap or fill bottles or other water containers when you travel at home or on the road or trail.
4) Long service life-home ro filter faucet
Filter faucet is the most popular conversion faucet in the market. It is suitable for hot and cold water, so you can continue to use all existing pipes. Patented design filters every drop of water. Each filter change lasts 6 months or 2000 gallons. It is lead-free and does not need electricity.
5) Efficient purification-reverse osmosis faucet filter
Water purifier is the best way to ensure that your family and loved ones drink clean and fresh water. This is a product you don't need to consider. It's too easy to get a glass of water from the sink without thinking about it. But did you know that most drinking water contains chemicals, such as chlorine, lead, and even fecal bacteria. You should worry about the chemical composition of drinking water - but more importantly, you should worry about the spread of disease in contact with contaminated water surfaces such as kitchen countertops and bathroom sinks.
Our Advantages for Bathroom Sink Faucet Manufacturer in China
We are a world-class manufacturer of stainless steel faucets and the founder of stainless steel faucets in China. Our products include stainless steel faucet, stainless steel shower, stainless steel sink, stainless steel kitchen pendant, stainless steel floor drain, etc. Shower panels and stainless steel bathroom cabinets. The products are sold to nearly 90 countries and regions, and are widely used in villas, high-end communities, commercial office buildings and public places. It is the only enterprise in China that has passed seven international certifications, including Kiwa in the Netherlands, water standards in Australia, SGS in the United States, UPC, en-817 in Europe, VA in Denmark, and wars test of Hong Kong water supplies department.
Installation precautions
1) Filter faucet is a kind of faucet, and its installation method is similar to that of ordinary faucet. At present, there are several kinds of faucets: single cooling and mixed cooling.
2) Single cooling is very simple. It is directly installed on the water pipe head on the wall. If it is a mixture of hot and cold, you should distinguish between hot and cold water pipes on the wall. Generally, it is hot on the left and cold on the right.
3) The single cooling installed on the stainless steel basin only needs to be fixed and then connected with two 4-tooth hoses, with one end connected to the angle valve and the other end connected to the faucet. It's similar to hot and cold, but there's an additional entrance.
4) Because the kitchen faucet is used frequently, it is required to be stable. In addition, it is easy to loosen when moving back and forth, so the locknut must be tightened. At present, some faucets on the market are fixed with screws and nuts. This kind of stabilization effect is very good. If the problem of removing and extracting water can be solved, it will be a popular trend in the future.
5) When installing the faucet, for example, children should consider cooking at home, and the faucet should be installed lower. Wet clothes with waterproof water flowing down their sleeves.
How to clean stainless steel faucet
First, prepare relevant cleaning tools, such as soft brushes, fresh-keeping bags, etc.

First use a soft brush to dip some soapy water, gently brush the faucet 4-5 times, then use a soft brush to dip a small amount of vinegar, lightly brush the stainless steel and the position of the faucet base, because the faucet base is the same as the cabinet countertop In the place of direct contact, the gap of the interface part is easy to hide dirt. After brushing for 4-5 stools, wrap the vinegar-washed area in a plastic bag. Remove it after about 30 minutes, rinse with water, and then dry it with a clean towel.

In the place where the fresh-keeping bag is used, paper towels can also be used instead, and a very good cleaning effect can also be achieved. In addition, you can also use toothpaste to apply to the stained parts of the stainless steel faucet, repeat the cleaning with a soft brush until it is clean, and finally dry it with a clean rag, so the above steps, the stainless steel faucet can be It's back to its former brightness.